Wedding Planning for the Sustainable Couple:
Lesson #1 - The People!

MARCH 15, 2019


So excited to finally be sharing this series.

This post has been a long time coming and honestly, I'm still gathering my thoughts to this moment. Just a couple of years ago I was attempting to plan my own wedding, obsessing over every detail on how to make it as sustainable as possible all while working with an industry that has traditionally been extra AF.

I want to share with you my experience unfiltered on how I planned my own wedding & what it took to make it as sustainable as possible. By no means would I have called my wedding the most "sustainable" wedding that ever existed, but it certainly was a perfect sustainable wedding to us as a couple. Why? Well, I'll take you through all the lessons. One lesson per post so y'all don't fall asleep from too much blog writing.

Lets take a look at lesson #1.
Lesson #1
The people are your most valuable asset to the wedding experience. Invest in them and let them invest in you!
Thousands of dollars gets thrown into the look and feel, but in the end, the people are what leave you with memories. So cheesy but its true. TRUST ME. I'm speaking from experience here.
For us, the people were who we wanted to invest in. We knew it wasn't an easy commitment to come to our wedding so we wanted to make it special for everyone, and not just us as a couple. We asked ourselves, how do we ensure the best guest experience, yet also engage our guests to contribute to the bigger picture.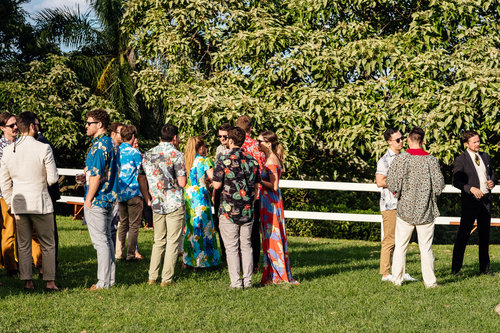 Creating a Theme:
Our attire theme was "Vintage Aloha" - can you tell? ;)
Being that it was fairly known by all guests my love for vintage and secondhand fashion, we only found it fitting to theme our dress code and on top of that, ask our guests to try their hardest to purchase vintage or secondhand. Being that our wedding was in Hawaii, it only made sense that our theme would be Vintage Aloha.
This took things to the next level.
At first we weren't sure how everyone would react or take this challenge, but looking back on the day, we could sense and see all the excitement, connection and color that was drawn from this simple theme. Beyond just a theme, guests felt like they were contributing to something I was personally passionate about, sustainable secondhand fashion. There was now this personal connection between us as a couple to each individual just by what they were wearing. It was like a gift of respect from them to us acknowledging something we cared about.
Now that is special.
If there's any takeaway from this lesson, it was making a theme that was personal &
DON'T BE AFRAID TO ASK YOUR GUESTS TO TRY TO SHOP SECONDHAND FOR THEIR OUTFITS/WEAR SOMETHING THEY ALREDY OWN!
That is what makes it successful and sustainable at the same time. The theme also doesn't have to be a dress code. You can incorporate a theme that speaks to you as a couple in the decor, programming, or even the location. Just picking wedding colors nowadays is eh... No one ends up talking about your wedding colors.
Wedding Day Guest Engagement:
As much as the day is about the couple, you can't forget to show your appreciation to your guests. The guests can make the wedding so special, but guests also replicate your enjoyment and level of happiness. So you as a couple need to set the tone. If you're having fun, they're having fun. When you engage your guests in different ways, you're able create those memorable moments.
Something we knew we wanted to incorporate was personal moments we could surprise our guests with. Luckily for us, Dylan is an amazing musician with an amazing band so it was an obvious choice to add his personal touch of music in the programming. It was also something that made the wedding uniquely ours and very personal because of Dylan's passion for music.
On top of that, we decided to team up on our first dance and again, make it personal. We picked a song together, he learned how to sign/play the song and made it his own, while I choreographed a hula dance. Fun fact, I danced the hula growing up and even performed for some family weddings in the past. ;) So needless to say, this was a personal moment not only for my family, but also my friends who had no idea I could dance the hula (hehe...). We kept this a surprise from everyone. Why? Because the element of surprise and sharing a part of something you love to your guests is priceless.
Not every couple may have a musician to perform or maybe you don't enjoy dancing but you can get creative with ways to share your passion with others almost as a thank you for being present for your big day. It doesn't have to be you up on the stage, it could be a friend or family member. Coordinating those personal touches goes a long way & doesn't require that much $$. And on top of that, engagement and memories can be done very sustainably. ;)
So, want to have a sustainable wedding on a budget? Color your wedding with the amazing people you have in your life instead of the unnecessary one-time use "stuff". Leverage them to contribute to the moment to not only make it special for you, the couple, but for themselves. When people contribute to a bigger cause, their personal investment and dedication elevates the experience beyond a price tag.
Additionally, after all your focus has gone on the people, you start to realize that prioritizing that centerpiece may not be important after all. After focusing on the people, we were left with only planning for what was actually necessary to the experience.
You'll only be left with priceless moments. And in the end actually making more sustainable, waste conscious decisions.
---
Remember this is a 4 part series so there's plenty more to come!! I decided to start light. ;)
Stay tuned for the next lesson on sourcing decor and using wedding rentals. (SO FUN!)
Thank you for reading! Till next time!
- Natasha