Vintage Denim: Sizing Guide for Denim Shorts

APRIL 19, 2019


WE ARE ENTERING SHORTS SEASON!

As it approaches, I wanted to be able to provide some guidance when it came to sizing yourself for vintage denim shorts. Particularly when it came to vintage Levis cut-off shorts. Determining your size for shorts are a bit different than how you would size yourself for jeans/pants. So, whether you're planning to buy some online from us, thrifting a pair to make into shorts, or going to your favorite shop, hopefully these tips will save you some time and stress on finding the best fit!
TIP #1: Size up at least 1-2" more than your waist measurement (normally used for vintage denim pants.)

Depending on how you'd like them to fit, this is key! When you size yourself for vintage denim pants you optimize for a more fitted look. Imagine making shorts out of your favorite fitted vintage Levis...If you're picturing what I'm picturing you'll see shorts that may feel and look way too tight and almost revealing in ways you may not want. Hot pants much?
Of course this comes to preference on how you'd like your shorts to fit you, but in general for a comfortable fit, you'd want just a couple inches of movement for shorts so they don't feel glued to your legs and rear.
Therefore size up! If you wear a size 26 in modern sizing. You'll most likely fit a 28" waist vintage Levis (generally speaking as it depends on the style of the jean & your body type). So, you may want to consider a 29" or 30" waist pair of vintage Levis shorts.
If you know your actual measurements, YES! More power to you because you can utilize your measurement to make even more accurate decisions.
If you're planning to purchase shorts through TCP, I've sized the denim shorts from XS to L.
XS will be shorts with waist measurements from 25" - 27"
S will be shorts with waist measurements from 28" - 30"
M will be shorts with waist measurements from 31" - 32"
L will be shorts with waist measurements from 32" - 34"
(Side note: Sizes past Large are available upon request so please don't hesitate to
reach out
!! The reason for this is because inseams may want to be longer, etc. so ideally we could make a more customized fit.)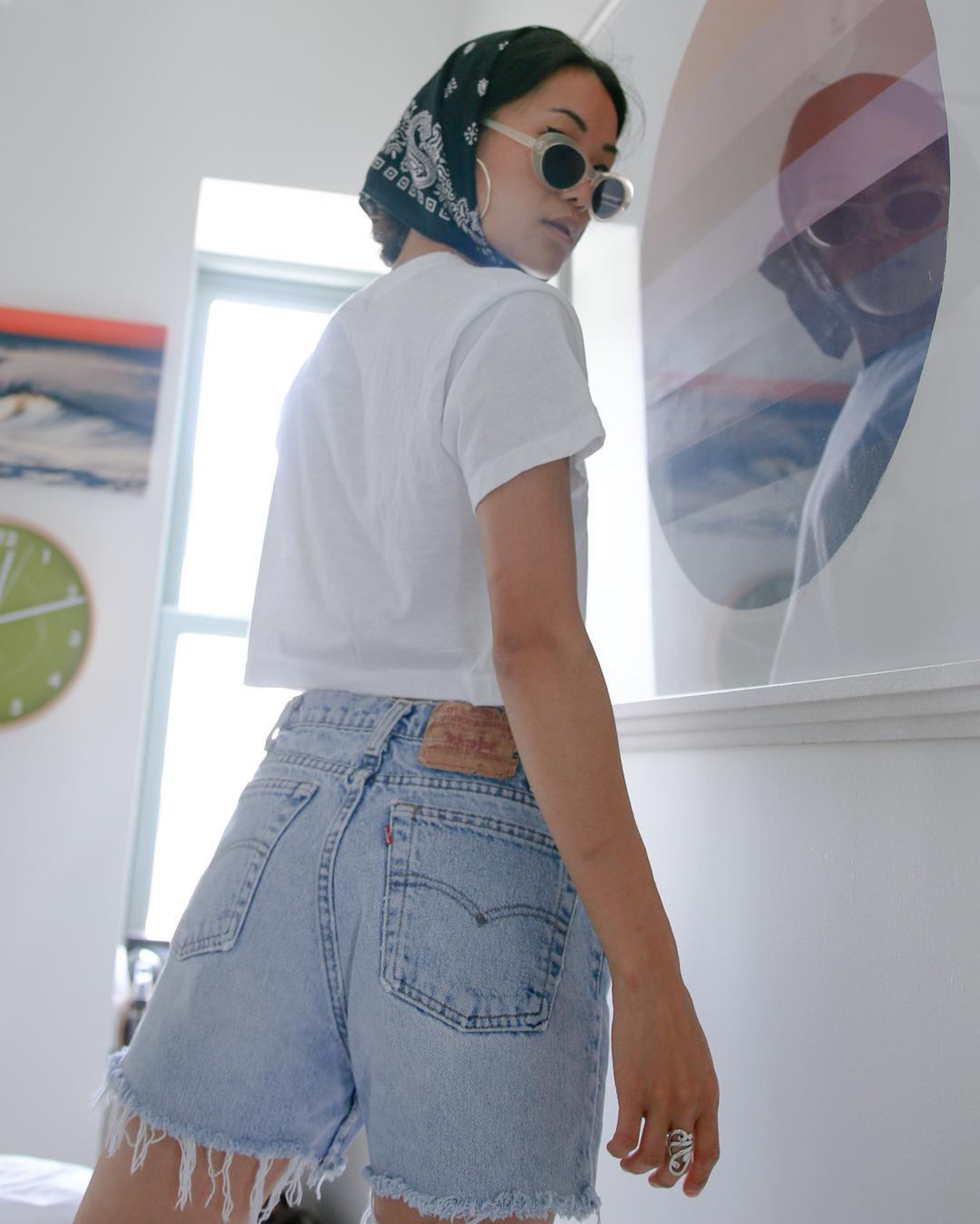 TIP #2: Understand the original style of the vintage Levis or denim.
There are many different styles of vintage denim, particularly Levis. By style I refer to cut and fit of the jeans which for Levis are reflected by #s… 501s, 505s, 550s, 512s, etc. Other vintage denim also comes in different styles, whether, high waisted, boot cut, wide leg, tapered leg, etc.
The reason why knowing the original style of denim pants before they became shorts is important is because it will still affect fit.
Additionally, certain styles complement different body types so you'll want to take this into account as well.
Here's some tips for some Levis styles that I carry in shorts:
505s:
They tend to be a bit more narrow in their fit. Sizing up will allow you to have them sit closer to the hips yet have them lay straight along your leg.
They can be fitted around the thigh since they are more of a narrow fit.
501s:
Since they have a longer rise, they tend to be shorter on the sides and also flare out at the sides a bit more than the 505s unless you have the thighs to fill them out.
They can be tricky when sizing up as if you size up too much it'll bunch up in the crotch area.
512s:
This style is the best for curvier body types with higher waist to hip ratio. So as shorts, they have the same fit where they have a smaller waist, but plenty of room for thighs.
Side note: If you've had a hard time with Vintage Levis 501s denim jeans, you should try 512s.
TIP #3: Utilize the Front Rise & Back Rise measurements for additional references to fit.
The front rise measurement is from the crotch seam up along the zipper to the waistband above the button. The back rise measurement is from the crotch seam around the back of the shorts to the top of the waist band. This is a very helpful measurement when you're shopping for any vintage denim.
Have you ever tried a pair of denim that rides up in your crotch area? Or a pair that is riding up your butt? Well this is probably because the front rise/back rise of the shorts or pants aren't long enough to accommodate where the shorts or pants want to fit along your waist.
With more room in the waist line (ie. sizing up) this will allow more options to where the shorts could fit along your waist. Additionally, a longer rise means more room… and ideally better for someone taller, needing that extra length, or wanting extra room in the booty area.
If you see a pair of shorts that are the same waist size but one pair has a longer front rise & back rise than the other, the shorter front rise/back rise will indicate a smaller fit/pair of shorts.
Now for some visuals…
Although I realize it is not ideal that I only have one body type/size as an example, hoping it will at least give SOME idea on the different styles and affect of sizing up. Ideally I'd capture a range of body types and sizes for this post so you can get an accurate idea on fit, but will have to note it as a future task once I
get some help/ a team
. ;)
Model normally wears a 26" in vintage Levis jeans. Fairly narrow body type.