DEADSTOCK STAN RAY SIZING

MARCH 26, 2020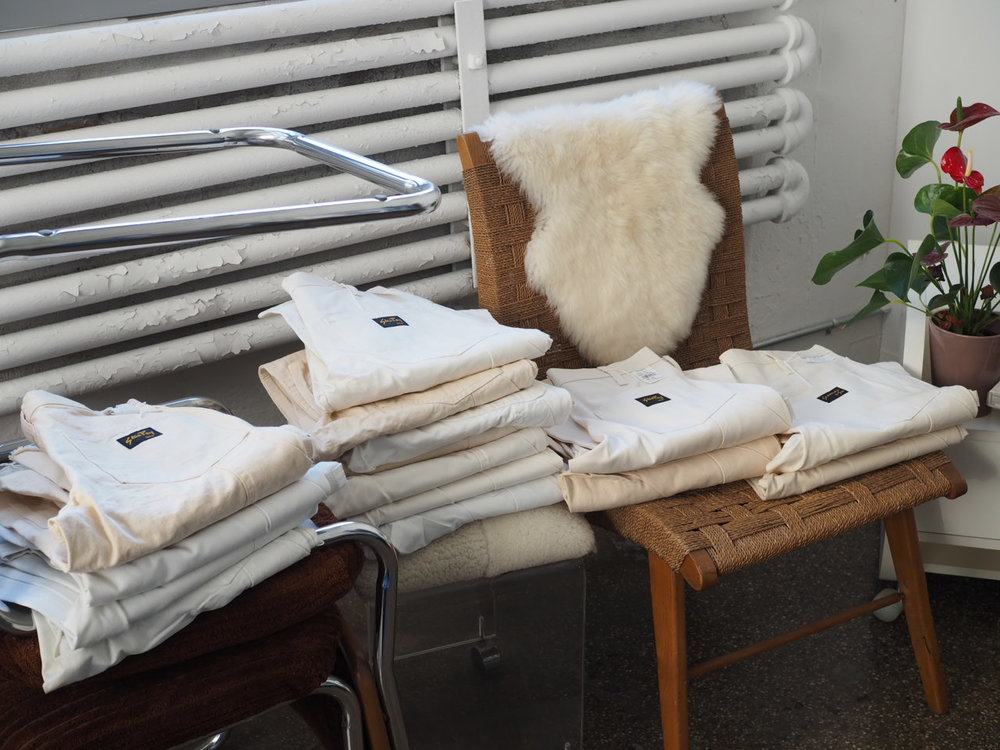 Painter pants have become the latest and greatest workwear trend. Luckily this is a trend that is not only functional, versatile and comfortable. Additionally these painter pants, particularly by Stan Ray are complimentary to MANY body types which I think is also a huge win! Stan Ray has been around since 1972 and is still making new workwear clothing today as their popularity has grown.
All the Stan Rays that we carry are
deadstock
.
What that means is they are unsold/unsellable stock that the company has accumulated over the years. Some are even vintage deadstock which means they are old stock that happen to be over 20 years old.

When I go through the Stan Ray deadstock I see a lot of pairs that have a painting companies brand patched on them or there are tape marks noting tiny areas of defects. Some have a different brand tag like Stanley USA or Gung Ho (which happen to be both made by Stan Ray).
Sometimes the deadstock is perfectly "new" but was old stock they'd rather sell off to recoup costs as they manufacturer new styles and cuts for their customers "today."
Many times deadstock items were made from companies that no longer exist (ie. Robert P. Miller). Stan Ray just happens to be a brand that has resurfaced.
Nowadays companies are doing better with production and stock levels in order to avoid deadstock (or at least they should be!!). Meanwhile, deadstock is still something I love to uncover and share with you all as it gives these items a second chance. Otherwise… landfill they go!
These Stan Ray Painter Pants are hands down a staple in your closet. Quite honestly… something you'll gravitate towards wearing almost everyday. As so my customers say… also… coming from first hand experience ;) But why?! Firstly because of the functionality and comfort. Secondly they are a trending pant cut that we're seeing many new designers replicate. I don't see them going away anytime soon. Why? Because trends that are actually fu
nctional and comfortable end up surpassing the trend phase into the classic phase as denim has done.
Now that you know a bit of history and the value these pants will play in your wardrobe… next up is understanding sizing!
No Stretch
Just like our good ol' friend vintage denim,
these painter pants don't stretch
. 99% of these painter pants are 100% cotton just like denim (while there are some that are 50% cotton/ 50% polyester), but the weight is much lighter and more forgiving for movement so hence the comfort factor. Bottom line, there is no stretch added to these pants.
The reason why knowing these don't stretch is important is because nowadays most new pants (even denim) have at least 1% of stretch. With the frequent use of stretch, many sizing charts have been altered to no longer reflect actual measurements SO it is always good to know your actual measurements to be able to reference when looking at sizing for vintage/secondhand or a new brand you want to try.
A long rise, high waist.
These painter pants have a long
front rise
which allow the waist line to hit at your most flattering point… high! A front rise is normally measured from the crotch seam all the way up to the top of the waistline. So as you can figure out, the longer the rise, the higher the waist line.
Being high waisted is particularly flattering for most womxn as the main thing you want to do is accentuate your smallest point of your waist. For the men out there, the long rise allows for the pants to fit comfortable on your natural waist with room for your… you know what.
Ladies - Feel free to use your high waist measurement. MOST times this means choosing a waist size that is similar to your modern sizing. Key word is MOST times… There are some instances where your modern sizing accommodates for lots of stretch… Note these don't stretch (as already mentioned) so be honest to yourself and choose a waist measurement that is most accurate to your actual high waist measurement.
Gentlemen - You can typically choose your traditional waist size. These paints were traditionally designed to be worn my men so most times your modern pant size will work for these painter pants. In the end it just depends on where you want to wear them along your waist (ie. high, mid or low).
Wide Leg & Roomy
Compared to vintage denim, these painter pants actually have a wide leg fit which accommodates plenty of room for the legs and thighs. A lot of times for vintage pants, the waist to thigh ratio is… well vintage and out of date. Meaning they don't accommodate the modern day body with curves. Even though the legs are roomy, it doesn't mean it looks extra baggy. That is the awesome part. With a fitted waist, it still hugs the behind very nicely.
So LADIES - even when you're choosing your smallest waist size, know that the pant leg is roomier than most pants so MOST times… if those thighs need room, these can give that to you.
Still… must put out a disclaimer: Although these have a great waist to thigh ratio there are so many body types out there that sometimes it isn't the solve for ALL. In case your waist to hip ratio is small/similar in measurement, you may want to get a larger waist measurement in order to have it accommodate for this.
Gents - a wide leg cut is always complimenting, especially when cropped at a good inseam length right above your ankles (or even higher if you're feeling a little more funky. ;))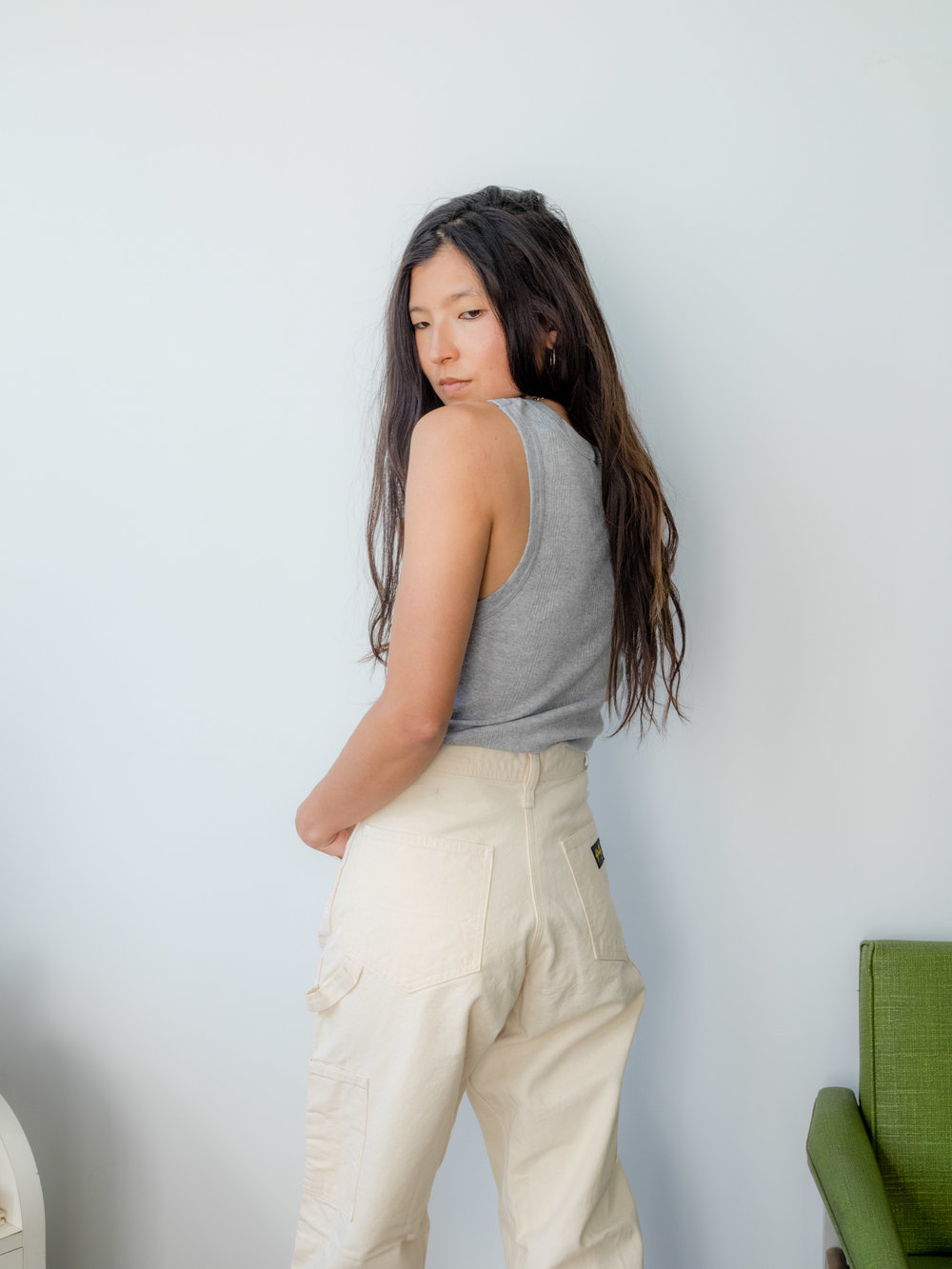 Customize Your Inseam


A lot of the painter pants come in longer than preferred inseams (unless you're super tall… you're in luck!) Either way all painter pants come with the option for a free crop to your preferred inseam. I highly suggest taking advantage of this as the inseam can make or break the look from looking baggy and too oversized, to flattering in all the right ways.

I have a pair that I cropped well above the ankle for a more summer vibe that I like to wear with high top sneakers while another pair is a bit longer by the ankle that I cuff with some nikes. Knowing your best inseam lengths based on the type of shoes you like to wear or the type of look you're going for is highly suggested. Painter pants or not…

In case you don't like a raw hem you can easily get them tailored to your preferred length as well.


Different Ways to Wear


How you want to wear and style your pants will be key to choosing your size.

If you'd like to wear them low-waisted, you will have to choose you low-waist measurement vs. your high-waist measurement.

Stan Rays can be worn at your low, mid or high waist. Most like to choose their high waist to get a more fitted look. You can easily size up to have a more relaxed look.

Whatever you choose it is imporant to make sure it will be comfortable. :)


---

Hopefully this was helpful! Was very excited to get these Stan Rays online as I've been selling them in person for a while now… but of course… didn't want to get them online till I gave a little sizing guide to help you all understand the fit. Because a good fit means you'll wear them everyday.

- Natasha Halesworth, CEO & FOUNDER